A writer on multiple subjects he has thus far published scores of short stories, scores of poems, two novels, several essays and articles on various subjects and several books ranging from religious apologetics and Bible passages, local history school textbooks, juvenile stories, strange experience stories, a successful treatise on a claim and a diverse lot of many others.

For the last 30 years, he has founded, edited and published the provincial weekly newspaper The Aklan Reporter.

His short stories have been acclaimed by critics from pre-war to post-war eras as among the most noteworthy in the country.

He is a fictitionist, poet, pamphleteer, journalist, book author, and publisher. He is a World War II veteran, English instructor for half a dozen years, sangguniang bayan member of his hometown for 16 years and an avid religious and civic worker.

Of him and his over thirty short stories published in the metropolitan magazines and other publications:
| | |
| --- | --- |
| | Jose Garcia Villa, internationally celebrated Filipino short story writer, poet, and literary critic wrote: "Congratulations for your storettes in the Philippines Commonweal, which I will include in my present 'Roll of Honor for Filipino Short Stories, 1940-41'. But what is important is that you have the real sensibilities of oa fine person." |
| | NVM Gonzales, novelist and short story writer of international fame, editor and college English professor, wrote: "These stories are just too moving for me. Reading them, I found myself shortly more than transfixed and emotionally numbed. . . They are amongst the most moving fiction in a Filipino setting that I have read in years. Isaac Babel comes closest to one's mind, but Roman A. de la Cruz owes no literary debts of any kind. He ought to be accorded the prominent place that is due him for his realism and compassion. He makes Panay and its people come to life. |
| | Ms. Eleanor Braulio, secretary, Commission on Filipino Language, Office of the President, Manila commented, "For several times, I cried reading your collection of short stories, They address the reader intimately and suffuse one's soul with intense emotion and compassion." |
As a writer, publisher and community leader, his Bio-Data is included in Barons "Who's Who of the Asian Pacific Rim," 412 North Coast Highway, B-110, Laguna Beach California 92651, USA, 1992 international edition.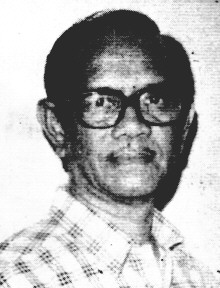 As a writer, outside of being an local historian Roman A, de al Cruz is a compelling story teller and forceful logician. These qualities are found in his short stories and his other writings and talks.
His writings have been included in some Philippine and American anthologies. For his writings, he has been a recipient of several awards locally, nationally and internationally.